Spring hasn't even sprung yet officially, so why should you be thinking about your air conditioning? Most homeowners wait until the last minute to check their HVAC system, but that's not the wisest decision. Think of you're A/C like your car. If you had a car parked in your garage for a year, you'd have it tuned up and maintained before you drove it more than a few miles. It would require an oil and filter change, car wash, and an overall inspection to ensure it was safe and in good operating condition. If you're A/C is not used for a year, it needs to be inspected and given some TLC.
You want to make sure your A/C unit is working efficiently so it will be ready for the hot summer season. When was the last time you changed the air filter or had it inspected? Michigan HVAC Pros have all the knowledge and training needed to get your unit back into shape. In business for more than 20 years, they are licensed and insured to perform air conditioning installation services in Dearborn Michigan.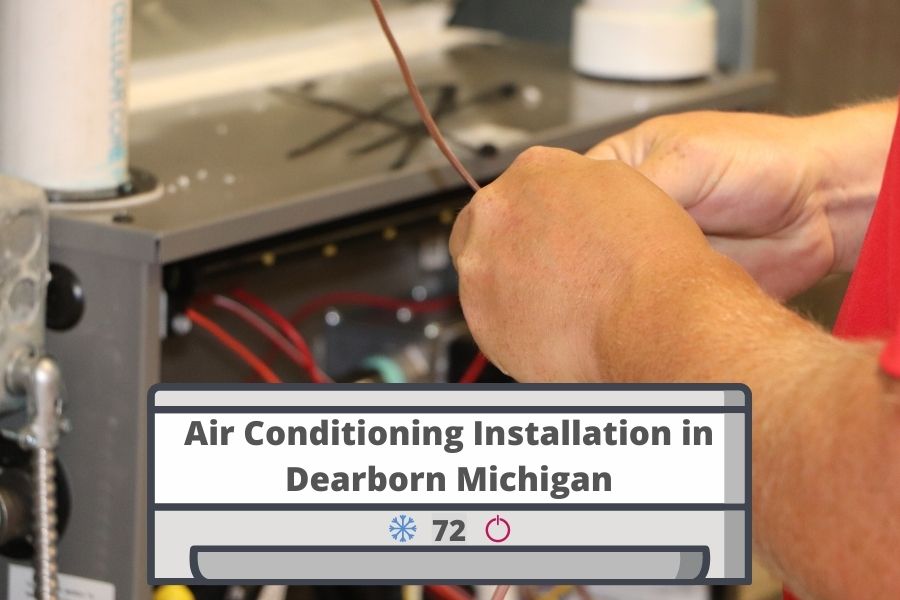 8 Reasons why it's important to have your A/C checked annually
Do you like spending more than you need to for utility bills? If not, preventive maintenance is worth considering. Here are some reasons why you need to call an experienced HVAC contractor today:
1) Saves money on your energy bills. Studies show you can save up to 15 percent on utility bills by having your units inspected and properly maintained. If your average monthly bill is $200, that's up to $360 in yearly savings! By making sure your system is assessed annually, you'll be achieving energy savings which translates to more money in your pocket.
2) Preventive maintenance is smarter. It's much cheaper to pay for preventive maintenance, inspections and repairs versus air conditioning installation services in Dearborn Michigan. The difference is between paying several hundred dollars to thousands of dollars.
3) Increase energy efficiency. If your unit is clogged, dirty, needs new coils or a filter, or other part, that means it's not running at full capacity, therefore it won't give you the cold A/C experience you want and need during the dog days of summer. Don't make your air conditioning system work harder than it has to. Call a licensed HVAC contractor such as HVAC Pros. They'll do the job right and make sure your A/C unit is as efficient as possible.
4) Avert a breakdown. No one wants their A/C unit to stop working when it's 85 degrees outside. It's an inconvenience at the very least, and uncomfortable. If anyone in your home has health challenges such as a heart condition or breathing problems, you need your air working properly to protect their health. Your heart has to work harder when the temperatures are higher. Add in some humidity to that and you've got a recipe for disaster.
5) Increase lifespan. The average A/C unit last 10-15 years, however, if you neglect it by not having it maintained and inspected regularly, you'll decrease its lifespan considerably. By calling professional HVAC contractors you'll be getting the most life out of your unit and it will last you many more years. If you ignore warning signs or sounds that your unit is failing, major damage can occur.
6) Improve air quality. By having your A/C unit regularly inspected, repaired and maintained you'll be improving your home's air quality. Mildew, debris, dust and mildew can accumulate in your duct system if your system isn't well-maintained. Reputable HVAC contractors have equipment they use to check the air quality of your home.
7) Maintaining your warranty. If your unit is very old and isn't under warranty, you might have to pay thousands to replace it. HVAC Pros will help you find the perfect air conditioning installation services professionals who will provide you with a lifetime warranty on parts and labor, depending on your service contract. A warranty gives you the peace of mind so you'll worry less about big repairs in the future. It's like an insurance policy.
8) Your warranty may demand it. Some warranties require you to schedule annual inspections as part of your contract to ensure you'll keep the unit in optimal condition, so check your paperwork to find out.
An ounce of prevention
The old saying is really true, an ounce of prevention is worth a pound of cure. By ensuring your AC system will be ready for blistering summer heat you won't be caught off guard and have to deal with a breakdown, on a waitlist for the next HVAC company to come out. Nothing can replace proper care and maintenance when it comes to your home.
Don't DIY
Unless you are a licensed and insured HVAC professional, it's best to call a credible company in your area. There are many different things an HVAC expert inspects regarding your air conditioning unit. Here are a few tasks they'll be performing:
✓ Clean condenser coil and condensate pump
✓ Test blower shutoff, thermostat, AC shutoff and wiring
✓ Replace air filters
✓ Ensure refrigerant charge meets manufacturer recommendations
✓ Test system's static pressure to identify areas of improvement needed to airflow
✓ Inspect exposed ductwork for air leaks and damage
✓ Test safety and limit controls
✓ Assess temperature drop across evaporator coil
✓ Flush drain line and inspect switch and drain pan
✓ Clean any blockages in supply registers and return vents
✓ Test all amp draws
There may be other areas your HVAC technicians will be assessing, but these are the primary concerns. If you attempt to do any of these inspections, cleanings or repairs yourself, you could end up electrocuting yourself or damaging your HVAC system.
Replacing your thermostat would improve efficiency
Do you have a "smart" thermostat? A smart thermostat helps to regulate the temperature in your home whether you're home or away. By regulating the temperature more efficiently, it triggers the A/C or heat to come on during specified times during the day. You can totally control your smart thermostat to increase your energy efficiency and reduce your utility bills. Smart thermostats can be installed by licensed HVAC companies such as HVAC Pros. Most newer homes have them built-in, so if you don't have one, it's time to think about it. Why cool off your home when it's empty? You'll notice your home is much more comfortable when you have this type of thermostat installed. You'll save a lot of money once you get a smart thermostat, which will ensure your unit isn't overworked and increase its overall efficiency.
Call the best AC installation company today
Be sure to call an insured and licensed HVAC contractor that is recommended by Angie's List and highly rated by the Better Business Bureau. A reputable cooling and heating company will expertly inspect and evaluate your current HVAC system, usually for free, so go ahead and call them today. They're also on call for emergencies, 24/7, on weekends and evenings, if you're dealing with no air or heat. The best place to start is by setting up a free estimate, consultation and inspection. You'll be presented with the results of their assessment and advised on the best next steps. If a new AC unit is required, they carry name brands such as Trane, Carrier and Lennox, so you'll get the best warranty available. Ask them about their six months same as cash specials, as well as financing options, coupons, payment plans and credit applications. Getting started is as easy as calling, and their friendly experts will answer any questions you may have. It's nice to know you'll be their priority, not like the big box HVAC companies that put you on a list and schedule your appointment weeks away. To learn more fill in the form below for a free quote!
[contact-form-7 id="773″ title="Contact form 1″]