You may not think about your air conditioner when the temperature is cold like it is now. But there are things that you can do during the fall and winter that can help your air conditioner perform much better and avoid costly repairs this coming spring and summer. I'll discuss some of those things you can do in this air conditioner tips in Michigan article. 
Off Season Preparation Air Conditioner Tips in Michigan
If you're all cozy in your home now with the furnace taking over the HVAC duties you may have forgotten about the air conditioner that you'll need this upcoming Spring and Summer. Many people neglect their air conditioners until they are needed when the weather gets warm again here in Michigan. But protecting your air conditioner can reduce problems later when you need it. I'll discuss some of those air conditioner tips in Michigan to protect your ac below.
Cover The Exterior Unit it It's Not In Use
Most homes in Michigan have a air conditioner unit as well as a furnace. If your home has a heat pump installed then you won't be able to do this tip because the exterior unit is also used by the heat pump. For stand alone air conditioners this is  a great air conditioner tips in Michigan for you.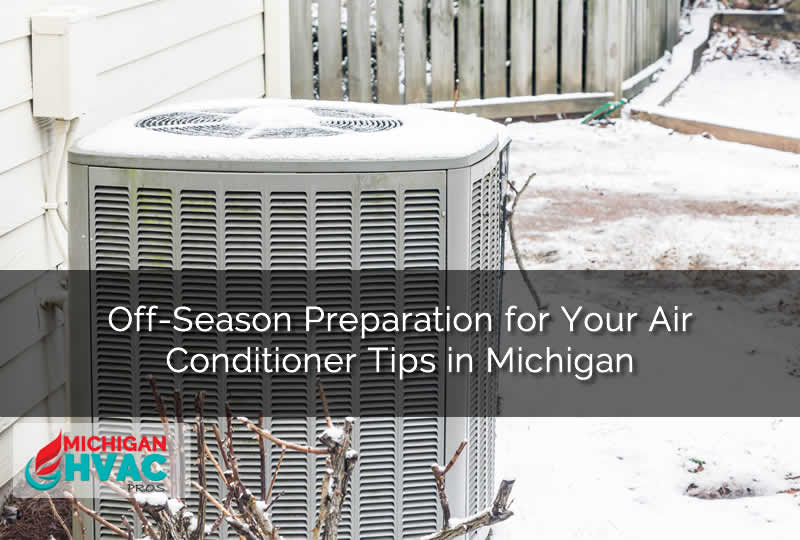 First, clear any debris from around the unit. Leaves, snow, and ice can build up on the unit and cause it to rust prematurely. Then cover the unit with a tarp. An outdoor grill cover also works well if you find the right size. This will protect the unit from weather, snow buildup, and ice that can cause the unit to rust. It can also help to stop creatures from getting inside the unit and making a home for themselves. Remember to remove the cover before turning the air conditioner back on in the Spring.
Close Returns That Only Work for The Air Conditioners
Some homes have a separate air return for the air conditioner. If your home has one air return for the furnace and one for the air conditioner then you may want to close the air return for the air conditioner off. It's important that they don't share the return however or you could cause problems with your furnace.
Close All Pipes and vents with Removable Foam
Access to an air conditioner through pipes and vents is common for insects and rodents to enter the HVAC system. Stopping these insects with foam or steel wool is a must. Rodents can cause all sorts of problems when they enter an HVAC unit and stopping them is one the best air conditioner tips in Michigan to keeping your system running smoothly this Summer.
If you have any tips that you would like to add please add a comment below. Keeping your air conditioner in tip top shape during the off-season can make it run much more smoothly during this Summer when the temperature heats up. You may also get an HVAC company in Michigan to inspect the unit annually before you decide to turn it on just to be sure that everything is in working order.