If the heat is too much at your home, maybe it's time to consider upgrading your current AC system. Or perhaps you don't have air conditioning at all, or just need some repairs. No matter what your situation is, Superior Comfort Heating & Cooling is here to help. We're a family-owned and operated business with over 15 years of experience.
Our licensed and experienced HVAC technicians receive the most up-to-date training on AC installation, repair and service in Downriver Michigan.
You don't want to skimp on your AC system by using an unlicensed or amateur contractor. If something goes wrong, you'll end up losing money and possibly face fines by your local municipality. Unscrupulous HVAC contractors are everywhere – they advertise on places like Facebook and Craigslist, because they don't want to invest any real money into advertising. There are many consumer horror stories about unlicensed HVAC contractors starting jobs at their homes and then disappearing – with their money and new system.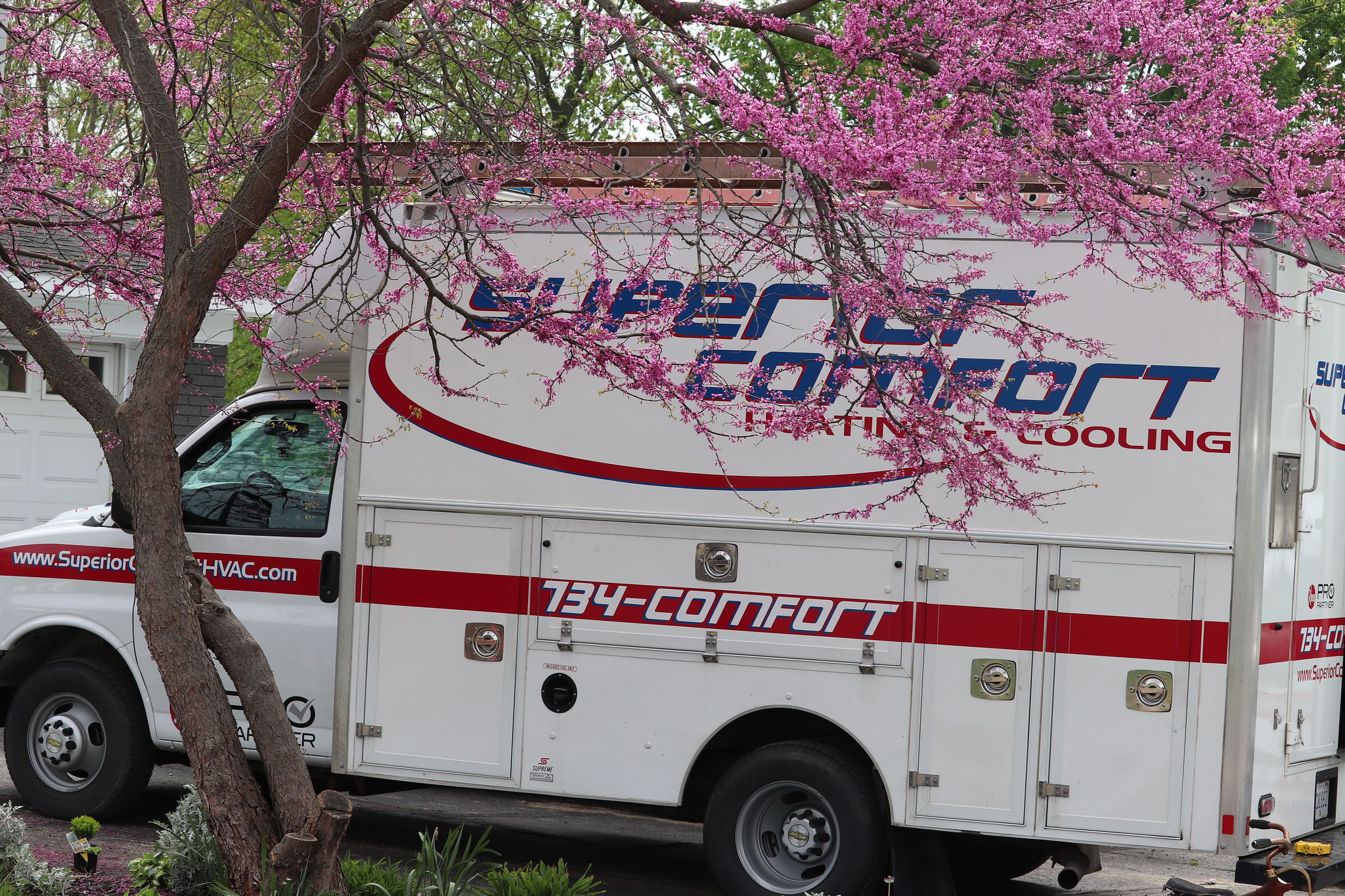 We've got your covered
The temperatures in Michigan have been known to soar to the 80s and 90s – not pleasant if your AC is out or you don't have any at all. Superior Comfort Heating & Cooling has you covered in winter, spring, summer and fall. We've got:
24/7 emergency support: If your AC goes out we can be there ASAP – usually within an hour or two, to perform emergency repairs, installation and maintenance.
Free HVAC inspections: Our state experts recommend you have your HVAC system inspected annually. You may need a new air filter, repairs or other maintenance, something a licensed contractor can do. We do a full inspection and deliver a complete report to let you know how your unit is performing.
AC installation and repair: All of our work is 100% guaranteed with a full labor and materials
warranty. We can install a new AC unit in less than a day and do emergency repairs while you wait.
Indoor Air Quality assessments: You and your family shouldn't be breathing and ingesting toxins, dust and mold – that is why you should call Superior Comfort Heating & Cooling to set up an indoor air quality assessment. You'll receive a detailed report of the air quality in your home, as well as any toxins or other debris you might be breathing in. If air quality is a problem, we can improve it for you dramatically.
Thermostat inspection and installation: Do you have a smart thermostat? A smart thermostat knows what the temperature in your home is and adjusts itself accordingly.
Therefore, your AC won't be running at full blast if it's in the 70s, even if you turned it on before you left for work. A smart thermostat will save you hundreds of dollars every year in utility bills, so it's truly a smart investment.
Every make and model of AC units
Are you interested in a split air conditioner (split duct and split ductless)? How about a commercial unit or residential central air conditioners? Or maybe you'd like a wall or window AC unit? Superior has every option you can think of, as well as affordable financing plans and easy credit approvals and applications.
To get started, call us at 734-818-7141. You'll be greeted by one of our friendly HVAC technicians, and they'll get you set up with an immediate appointment. You'll get a one-on-one consultation and free estimate, with no obligation to buy. Whether you need a small unit or repairs, or a total AC installation, Superior Comfort Heating & Cooling is your #1 neighborhood HVAC contractor. Our customers are like family to us— come join our family!
Superior Comfort Heating & Cooling
27518 Telegraph Rd
Flat Rock, MI 48134
(734) 818-7141