You may have repeatedly heard how important HVAC and furnace maintenance could be for Downriver Michigan residents. Many homeowners hear this time and time again, but they may not really know why, what to do, or even when to do it. This is just something they're told as homeowners so they do it, but knowing why it is important to routinely get your HVAC system checked and maintained could be incentive enough to continue to do so. It can save money on repairs as well as make the HVAC system or furnace more energy efficient. Here are some tips to keep your HVAC system and furnace performing as it should for many years to come. 

Essential HVAC and Furnace Maintenance Tips in Downriver Michigan
Obviously most homeowners consider our HVAC system as an important part of their home, so why shouldn't they be concerned with why we need to maintain it? Here are some of the most important reasons you should routinely get your HVAC inspected and repaired when needed. Allowing an HVAC system or furnace to continually work to keep your home comfortable without proper maintenance could cause a lot of problems. It can cut down on the energy efficiency of the system over time which will cost more in energy costs each day the unit is on. Not only that but it puts the unit under more stress which can mean more broken parts and needed repairs. Don't let this happen to you, ger regular maintenance on your HVAC system and furnace regularly.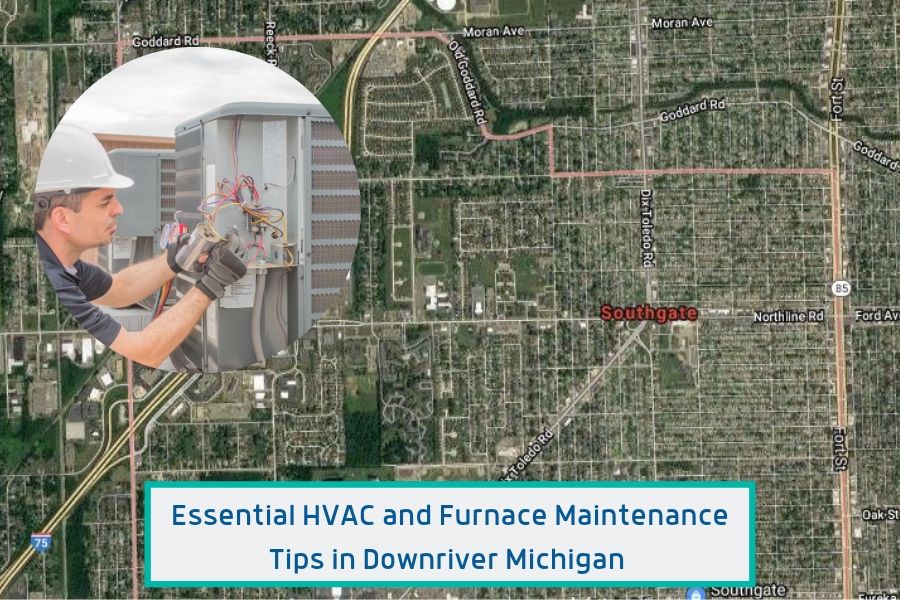 Efficiency Boost – A correctly functioning HVAC system or furnace in your home will be more efficient than one that isn't properly maintained. If the coils are cleaned regularly and the filter changed on time, then you will have a far more efficient air system that doesn't have to work as hard to function correctly. If you keep up the maintenance, your HVAC system will last far longer than if you did not. Not only that but changing the air filter means cleaner air for your family to breathe.
Prevention of Breakdown – HVAC maintenance can help prevent a total system breakdown. If done regularly and properly, inspection and maintenance of your system can catch small issues before they grow into large ones. The right care and minor repairs where needed will keep you from making a hefty investment in replacing your HVAC system. Annual HVAC and furnace inspection and maintenance from qualified contractors is a must to help prevent system breakdowns.
Comfort! – If your HVAC system isn't maintained as it should be, it likely isn't functioning correctly. If this is the case, you are cheating yourself out of a more comfortable home. A properly maintained system will better cool and heat your home, keeping you more comfortable throughout the year. You also don't want to chance any breakdowns in the middle of summer, so regular maintenance can find small issues to prevent this from happening.
Improved Air Quality – By conducting regular maintenance, your air conditioning system will be able to function properly. This will include changing filters, removing buildup, and cleaning coils, all of which will have your HVAC running properly. A properly running system will improve the air quality in your home, making your home more comfortable and better to live in.
Lifespan Extended – An HVAC system is a very pricey component of your home. Not properly maintaining it is a costly negligence that you will serve yourself if repairs get out of hand. You don't want an improperly cared for system to result in your replacing the system before you need to. By keeping your maintenance regular, you will catch issues before they become costly problems and you will have a better functioning system for longer.
As an essential piece of what makes your home happy and comfortable, your HVAC should be considered a top priority when it comes to scheduling your regular household maintenance. Schedule your regular maintenance today so that you can improve the quality of the air in your home sooner rather than later. If your HVAC system or furnace has not been properly maintained and inspected by a qualified HVAC contractor in Michigan be sure to contact Michigan HVAC Pros today to get an inspection and maintenance on your unit.