Having a furnace that works is a must during the winter in Michigan. With temperatures dipping well below freezing, without heat, you can be put into a very serious situation. That's why keeping your home's furnace in good working order is so important. But sometimes, constant repairs and other things happen which may lead you to think that you need a new furnace in Downriver Michigan. We'll take a look at some of the situations and signs you should be on the lookout for to determine if your furnace needs to be repaired or do you need a completely new furnace installed in your home.
When Should You Replace Your Furnace in Downriver Michigan?
When it comes to your home's furnace there are many factors that you'll need to consider. While some factors don't matter as much as others, they all have their importance when deciding when you should replace your home's furnace. First and foremost you need a furnace that can keep your home comfortable during the coldest of Michigan's weather. If your furnace can't keep up even when it's working during the winter then it may be time to replace it. With that being said, here are some other things you'll need to consider when it comes to your home's furnace: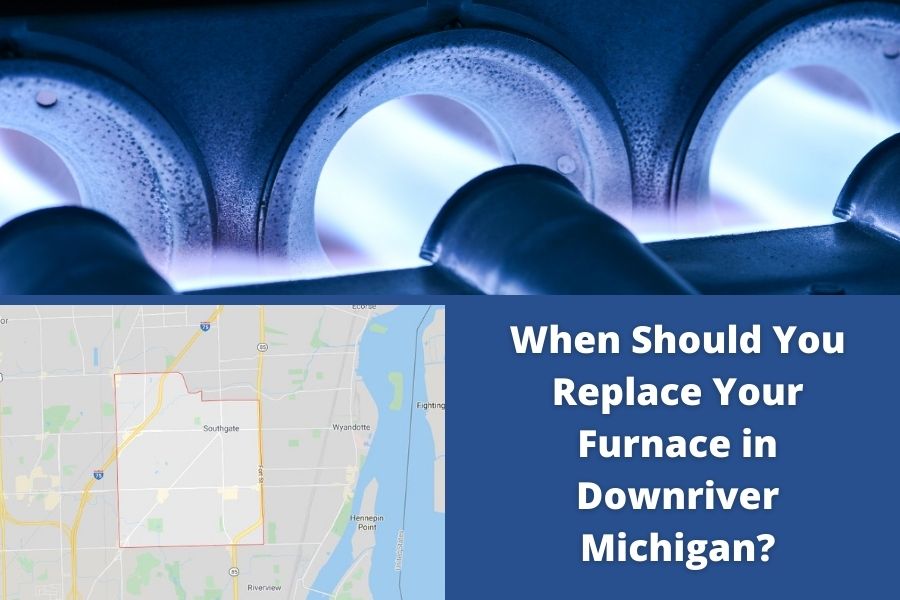 The Furnace Uses Too Much Energy
During the winter months the biggest draw on your home's energy usage is likely going to be the furnace. A good working furnace that is relatively new will be more energy efficient than older models but it's a good idea to keep in mind that it takes a lot of energy to provide heat during the colder winter months. Since there are different styles and models of furnaces it's important that you have one that is energy efficient. For instance, if you have a furnace that is 25 years old without any type of energy efficiency enhancements, then replacing your furnace with a newer more energy efficient one can give you a huge savings on your energy costs.
Consider the Age of the Furnace
Most furnaces are designed to last just over a decade. Some higher quality models can last more than that and some of the lower quality models may not even last that long. Determining how long your system will last usually means comparing the warranty of the system. Most times you can determine just how much of quality is in the system by the warranty. Longer warranty on the furnace will likely mean it will last longer. And if it doesn't then it will be under warranty for replacement or repair.
Running Condition of the Furnace. Sounds, Smells, Etc
Another item you'll need to consider when determining if you need a new furnace or not is the condition it is currently in. If your furnace makes all sorts of noises then it may be about to fail completely. Other things you should consider is the smells or sounds that come from the furnace. It may run extremely loud even when it is working normally which can sometimes be cause in itself for replacement of the furnace.
Constant Repairs are Needed
Most furnace repairs can be done rather inexpensively when compared to replacement of the furnace. However, when your furnace needs constant repairs then it may be time to get a new furnace installed. As the system starts to break down it may require more and more repairs to keep it going which can get expensive very quickly. If you've had to repair your furnace a few times in a year and it needs repair again, then it may be time to consider getting a new furnace installed.
A New Furnace Doesn't Fit the Budget
So you think you may need a new furnace but it doesn't fit into the budget. What can you do? Well, there are several options that can help. One if by using a qualified HVAC contractor such as Superior Comfort Heating and Cooling which offers financing for the new furnace. You can get a new furnace in some cases with zero money down. And the new furnace will be fully warrantied and installed by certified technicians. Be sure to give them a call today at (734) 818-7141 for more details.